Posted by Charlotte Salter, on June 8, 2018.
Families in Cheshire West and Chester are being urged by local health partners, the Royal Society for the Prevention Accidents (RoSPA) and The UK Cleaning Products Industry Association (UKCPI) to take action to protect their children from the risks of household cleaning products.
The local launch of RoSPA's national 'Take Action Today, Put Them Away' campaign – a scheme to encourage families with young children to think about the safe storage of cleaning products – took place at Blacon Children's Centre on 7 June 2018.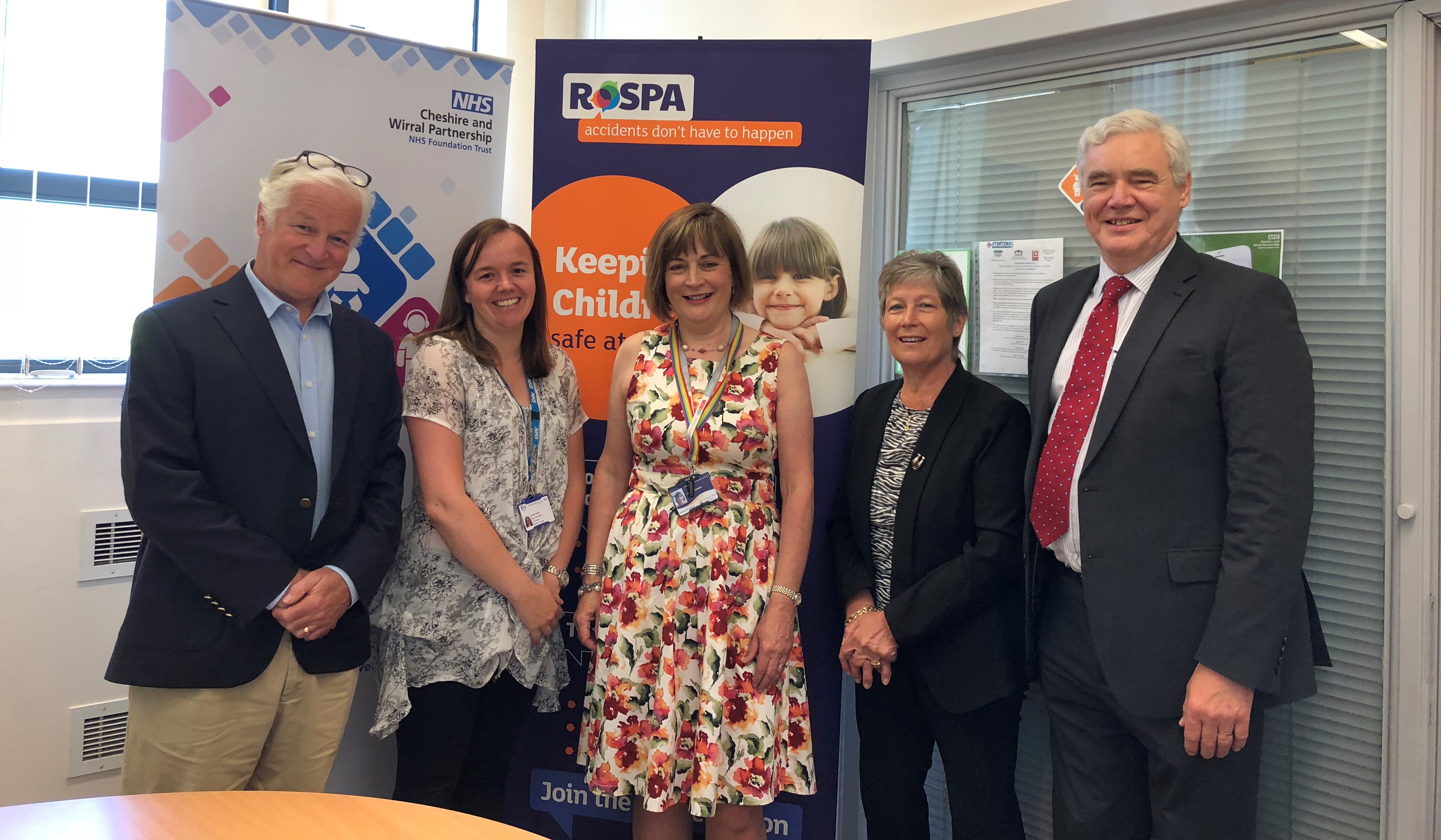 The event, which advised local families on the best ways to avoid accidents and injuries, coincided with Child Safety Week (4-10 June) and was led by Children's Centre staff from Cheshire and Wirral Partnership NHS Foundation Trust (CWP). The day was supported by partners Cheshire West and Chester Council (CWaC), Countess of Chester Hospital NHS Foundation Trust (CoCH) and West Cheshire and Vale Royal Clinical Commissioning Groups (CCGs).

Philip Malpass, from UKCPI, said: "Cleaning products are designed to be safe to use and to provide the clean and hygienic home we often take for granted today. The accidents we see involving young children and cleaning products are avoidable and whilst the severity of the injuries are generally low, we hope that this campaign will remind parents to follow the usage instructions on the packaging, and in so doing, avoid unnecessary accidents."
Take Action Today, Put Them Away advice to parents includes:
• Store household cleaning products out of reach of children, preferably in a locked cupboard
• Always store chemicals in their original containers
• Never pierce or break laundry capsules or tablets
• Always close the lid of any product
• In the event of an incident, follow advice on the product pack and seek medical attention
Val Sturgess, Head of Clinical Services, Starting Well at CWP, said: "I'm delighted that we're able to shine a light on such an important topic. We know that accidental poisoning is a common cause of hospital admissions for children nationally. It is really important that we raise awareness to the dangers and provide parents and families with the advice and information they need to keep their children safe.'

As part of the campaign, a handy magnetic notepad featuring key safety advice will be handed out to at least 20,000 families in the area.

Sheila Merrill, RoSPA's public health adviser, said: "The notepad acts as a constant reminder in family kitchens to store cleaning products out of reach, out of sight and in a locked cupboard.

"Due to their inquisitive nature, children under the age of five are most at risk of accidentally swallowing or getting household cleaning products, like liquid laundry capsules, into their eyes. Even products with a child-resistant closure cannot guarantee safety – they only reduce the risk by delaying access to the product."




In Cheshire West and Chester, poisonings account for 14 per cent of injury admissions for children aged 0-4. Despite a slight drop in the five-year hospital admissions figure in the 2012-13 to 2016-17 period (compared to 2011-12 to 2015-16) the area is still above the average for the North West and England for the period.

Paediatric consultant at The Countess of Chester Hospital Dr Ravi Jayaram said: "Many parents of young children aren't aware that apparently harmless household cleaning products can potentially cause significant harm to children if they put them in their mouths or if they come into contact with their eyes. Many of these products look like colourful sweets and can be very tempting to small children. It is really important for parents to be aware of the risks and to make sure that these products are stored away out of sight and out of reach."

Councillor Louise Gittins Deputy Leader and Cabinet Member for Communities and Wellbeing, said: "It was great to see so many families at the event. The Starting Well Service, based in children's centres across west Cheshire, works closely with local families.

Health visitors, early years workers, family nurses, school nurses and mywellbeing advisors all work together to help our children stay safe, happy and healthy, ensuring they have the best start in life."
Dr Charlotte Rowland, NHS West Cheshire Clinical Commissioning Group's clinical lead for paediatrics, said: "Within West Cheshire we are aware of the numbers of families attending hospital, contacting NHS 111 or Out of Hours GP services with suspected poisonings to babies and young children. We support this awareness-raising campaign from the Local Authority and hope that local families take note of the potential risks."

Further information on the Take Action Today campaign can be found here.

For more details about UKCPI, visit www.ukcpi.org